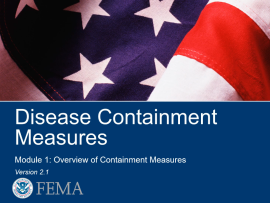 This course provides training on the indicators related to various disease containment measures as well as detailed information on the declaration, implementation, and suspension efforts required during disease containment efforts. The course focuses on the roles of community agencies as well as how these agencies must integrate their efforts to successfully respond to a disease-related emergency. Case studies are used to provide real-life exposure to social distancing, quarantine, and isolation events.

*** NOTE ***
If you receive a message saying "You cannot enroll yourself in this course", you first need to complete your profile information which is required for DHS-Certified training.

Click your name in the upper right corner
Select Profile
Under User Details, select Edit Profile
Scroll down and click FEMA Required Fields,
Fill out all fields and click Update Profile
It may take up to 5 minutes to update your permissions
Refresh the course page to check for access.
Email elearn@ncbrt.lsu.edu if your access is not granted after 5 minutes.